Workshops with Ruby Cubes
On Saturday I was down at Make@140 in Plymouth to teach a beginners workshop on Rope Bowl Making. I was joined by three lovely ladies who all worked really hard & got into the spirit of it to make some beautiful bowls & I thought I'd share a bit about the day with you, as I know I haven't really talked about these workshops before and what goes on at them.
It's quite a step to go from sitting in my lovely comfy studio where I can make at my leisure (ahem not between Sept - Dec though, nothing leisurely about the Christmas run up) and standing up to teach other actual real life humans a new skill. The first time I did a workshop, it went well and everyone left with their own handmade bowls, however it was a step into the unknown for me & I didn't feel that relaxed. I really wanted this workshop to be more relaxed so that those taking part could enjoy it more immersively as a creative & learning experience, rather than just a "rote" here's how to do it lesson.
Overall this more relaxed feel definitely gave me the confidence to deliver a better experience as I felt more able to be encouraging each student to make their own decisions about design elements such as colour & finishing touches, as well as inviting them to decide on what shapes they wanted to achieve. I managed to get a couple of snaps of two of the ladies with their finished pieces, looking pretty chuffed (as they should, look how neat that stitching is!) & it was a joy to see them go home with their own creations: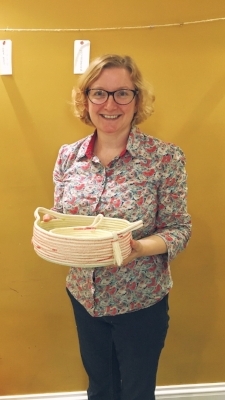 It's onwards & upwards for me now as I head into the busiest part of the year, I've got 9 events & exhibitions coming up that I need to be fully stocked for, as well as fulfilling orders for my stockists. So you'll be able to find me hiding in the studio with the large coffee pot & extra loud acid jazz for the next couple of weeks.
wishing you all a great week,
Jessica x